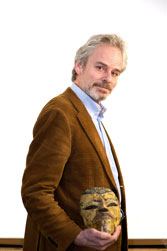 About Arnold Wentholt
Arnold Wentholt is an art historian specializing is the tribal arts of Indonesia, Melanesia and Africa. He holds an MA degree in Art History from Leiden University. Between 1987 and 1998 he worked for various Dutch and international auction houses, including Christie's Amsterdam (Indonesian art).
Since 1998 he is an independent tribal art expert, author, and valuator, working for museums, auction houses, insurance companies, dealers and private collectors. In this period he curated two major exhibitions: In kaart gebracht met kapmes en kompas and Van verre volken thuis. Kunst in de kamer He published two internationally acclaimed scholarly books, In kaart gebracht met kapmes en kompas. Met het Koninklijk Nederlands Aardrijkskundig genootschap op expeditie tussen 1873 en 1960 (2003) and Nusantara, Highlights from Museum Nusantara Delft (2014) see Tribal Art (Summer 2014), and contributed to edited volumes on, among other subjects Indonesian tribal art.
Wentholt's special interest concerns the tribal arts of the Southeast Asian Archipelago, on which subject he regularly contributes to, among other journals, Tribal Art. He is also developing on a major database documenting the tribal arts of this region.
an archive of Indonesian tribal art